Hubs and I are still kids at heart, and sometimes that results in hilarious conversations. Other times we have sweet and insightful ones. Let's not leave out the randomness that happens when I'm with my friends and talk to my mom. I started writing them down, because I thought I may share them here eventually. Then I remembered that Emily over at
Ember Grey.
does the
same thing
from time to time, and I got a fabulous idea. Immediately I emailed Emily to get her thoughts on my idea and she loved it and even offered to co-host one with me!
Then I really got to brainstorming, and here are the details!
What:
Share a funny, interesting, insightful, or random conversation that you had with someone in your life or even someone you met in the check out line at Target. They can be current or something you remember from the past. You can include pictures, videos, songs, etc. to help tell the story.
When:
The link-up will be live on the
last Friday of each month
.
Feel free to incorporate other link-ups and blog-hops that you already participate in with your post.
How:
Post your story and conversation on your blog. Please include the Conversations button or a link to Knock on Wood in your post, and don't forget to add your post's link to the linky tool at the bottom of the current Conversations post (check that
here
). And don't forget to follow my co-host!
Social Media:
If you tweet, Instagram, or Facebook your post, use the the hashtag #MyConversations in your post, so we can all follow along!
Co-Hosting:
I am offering the spot of co-host as a part of my sponsor options. Go check it out!
HERE
Button: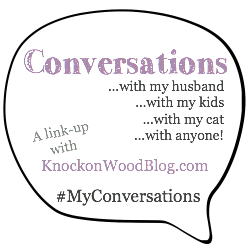 Tip:
Keep and notepad and pen near by or even use the notepad on your phone to jot down the conversations you want to share.
I look forward to reading all your conversations and sharing with you little insights of my personality and the daily goings on of my life.