with Kaity
You guys remember by
MO Bestie, Kaity
? Of course you do, cause she's awesome! Well, I've got another hilarious conversation to share with you between her and I. This particular one happened during class one night (I know, I know, we should have been paying attention, but sometimes... you know. Bored). Kaity got a text, and it distracted me, but because we were in class I couldn't be nosy and ask her out loud who she was texting. So I texted her.
Me:
Who are you sexting?
Kaity:
My sister's boyfriend.
Me:
Why are you sexting your sister's bf??
Kaity:
Idk... just felt like it *winky face*
Me:
Weirdo. Cradle Robber.
Kaity:
We are actually talking about the packages that I sent him. And I ain't no cradle robber!!
(
note: Kaity is really close with her sister and her bf, and often sends them little care packages)
Me:
Ooohhh. Packages huh? Does Megan know he like "packages"?
Kaity turns so red and is trying not to laugh out loud once she read that last text.
Kaity: Oh yes, she knows all about that floozy belle!
Me:
I'm not usually this funny with anyone else. Just you.
Me:
You're Welcome.
It's the truth. Somehow I am on my comedic game when I'm with Kaity. I wish I could pull off that funny with other people, especially Hubs. He always has a witty comment about almost everything.
This month I've got THREE lovely co-hosts! Be sure to check them out, as well as the rest of the Conversations posts linked up with us this week.
Sarah
Libby
Ashley
Join us and share a conversation you've had lately!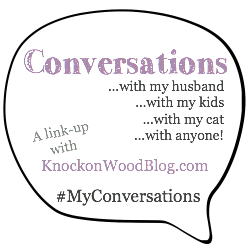 Check out my current Chestnut sponsor!