Can't be serious all the time!
Today is the first day of my new link-up! And I am so excited to share these little insights with you and to read the one's from your lives. Without further adieux, here is this little gem of a conversation I had with Hubs in the car on the drive home from Georgia last Monday:
Me:
Guest what?
Him:
Who?
Me:
It's not that kind of what.
Him:
Oh. What?
Me:
I Love you.
Him:
I Love you even more.
Me:
Nuh uh! (pause) OK, well maybe.
Him:
(chuckles) Oh! Now you're going to admit it?
Me:
You know I Love you just as much as you Love me. (pause) Even though you're a butt head.
Him:
I know, but you're a butt head too.
Me:
I know. Us butt heads gotta stick together!
Him:
I guess. (pause) Two butt heads don't make a wrong (looks at me with a huge grin).
Yes, we are that couple. #noshame
Since today is a Monday, Emily will not be co-hosting, but be sure to go over to
Ember Grey.
and read all the amazing
Grateful Heart posts
! In her absence (she will be co-hosting later, I promise!), I have asked one of my current sponsors to help me out. You guys should know my good friend Melissa by now, but if you don't go check her out over at
The Rambling Llama
.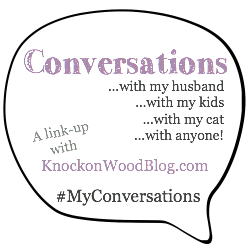 I am very grateful (it
is
Grateful Heart Monday after all) that I have the opportunity to try these new ideas, to share my life (and Love) with you, and to be able to have these silly conversations with my husband.