In TWO days, Casey from
Love and Waffles
is getting married!! I am so freakin' excited for her! This afternoon, she starts her long wedding weekend and I agreed to help her out a little with a
guest post
. So go check that out and wish her so much happiness on her upcoming nuptials.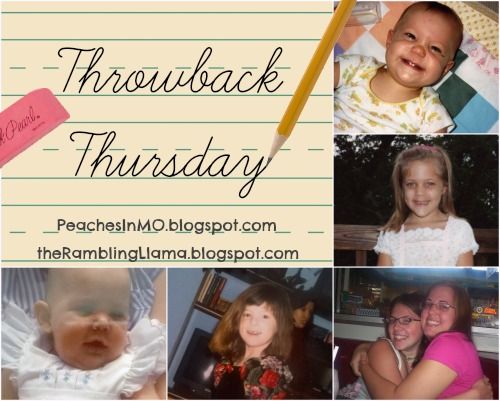 Today is Thursday, so I have a #TBT story for you. I forgot to put a prompt at the end of last week's post, and I didn't even realize it until Kathy texted me asking what the theme was for this week. After a short discussion I decided on: Favorite memories with Grandparents/Great-Grandparents.
But first let me reintroduce you to my co-host!
Melissa
has been on a hiatus of sorts since Google decided she didn't need her account anymore and deleted it (and therefore her blog) without her permission. BUT, we've made her a fresh new blog with a new name and a fabulous new design!
The Rambling Llama
fits so much better into Melissa's personality and her (future) content. AND I got the link-up tool to work again!
Ok back to topic.
Some of my favorite memories are of my maternal great-grandmother. We call her Nanna. Her house always seemed like a whole other world to me, and I was fascinated with it. I had never (and still haven't) seen a house with dark royal blue carpet, but it totally worked with her decor. My favorite part was outside. She had a honeybee hive, a strawberry patch, blueberry bushes, an herb garden, and bird feeders everywhere. Nanna's back yard looked like it could have come straight out of a fairytale. I wish I had pictures.
Four generations of women on my mom's side.
She lived across the strewn from the Tucker High School practice field and track. It was open to the public, and she would go over there every morning and walk two miles. When I was little she would take me with her and we would make fun shadow shapes with our hands. Then we would come back home and water the garden. I learned so many things about nature during my visits with Nanna. She taught me about birds, herbs, how the honeybees make the honey. She taught me how to crochet. She read me stories, played games, and sang songs.
Nanna celebrated her 100th birthday this past January and even though her Dementia is getting worse by the day, she's still kickin'. She's a stubborn old lady. I hope she's still here to see my future child.
Next week on #TBT: Meal times. Were you a picky eater?
P.S. Here's a smaller button option!