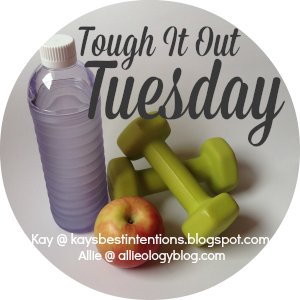 Motivation and will power have escaped me recently. After a gloriously productive
Easter weekend
, I thought I'd stay on track and keep things going. Nope. Didn't happen. I got lazy and started craving Dill Pickle chips and M&Ms mixed with Reeces Pieces. And I ate them. An entire bag of chips and half of my candy mixture later, I felt awful.
Then the weather started getting moody and thwarted every attempt I made to go for a walk. I did a few video workouts and some stuff with my exercise ball, but not as much as I should have. Philip is working a lot and has been so tired, which makes me feel bad cause he'll always workout with me if I say I'm going to. That sounds like an excuse. But if your person has a physically demanding job, you kinda get where I'm coming from in not wanting to add to their body pain and fatigue.
Sunday wasn't any different. I checked my bloggy stuff, then laid around watching HBO and dreaming of an ice cream and cookie binge. I didn't binge, but I wanted to. Really, really bad.
Here's hoping this week is better than last week, especially now that the junk is out of the house.