I'm trading my TMI Tuesday posts for Tough It Out Tuesday Posts.
Sorry
TMI Tuesday Blog
! I love you, but I think TIOT will be a better fit for my blog and lifestyle at the moment. Plus,
Allie
and
Kay
are huge inspirations for me lately.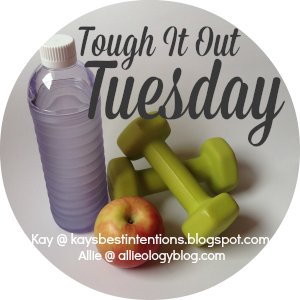 The other day I had a serious talk with myself and kicked my own butt because I know I've let the healthy habits I acquired from being Vegetarian for the six months prior to moving to Missouri get buried under snow and
snirt
this winter. I re-downloaded the
LoseIt
app and found a great
running
jogging
wogging (not walking, but not quite jogging). It's called
Couch to 5K
and so far, I love it.
At the grocery store last Monday we got more fresh foods than usual and I am paying a closer attention to my portion sizes and carb/sugar intake. I spent all afternoon last Tuesday washing, cutting, and portioning out the fruits and veggies into baggies. Philip likes this cause he can grab a baggie of fruit for breakfast or lunch along with his sandwich or leftovers. And I don't have to measure everything out each time I want to eat something. Keeping a list of what I am eating throughout the day on LoseIt is really eyeopening and keeping me from snaking out of boredom cause I don't want to have to add it and see those numbers rise!
I am going to do C25K Mondays, Wednesdays, and Fridays then strength training on Tuesdays, Thursdays, and Saturdays. Sundays are for resting. I am not comfortable posting my weight publicly yet, but I did take some before pictures and measurements for a possible before and after post when I reach my goal.